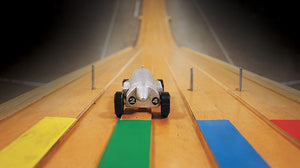 Pinewood Derby Signup
Join us on Black Friday for the third Bewilder Pine Wood Derby. Sign up and enter for just $10 then create the fastest car you can!
The $10 entry fee includes the cost of a kit if needed. Print the receipt and pick up car at Bewilder. Any money made will be donated to charity.

Stock car entries must follow specific rules and specifications found here.